The European Commissioner for Innovation, Research, Culture, Education and Youth – Mariya Gabriel – opened Teenovator's start-up weekend
Climate change, bee rescue, sustainable construction, healthy eating at school, disaster reduction, online private lessons, hemp instead of plastic. These are some of the topics and problems that teens in the 10th and 11th grade were looking for a solution to within 48 hours in the startup weekend of the startup club program of Bulgarian schools – Teenovator. For the first time, the event brought together about 250 students participating in startup clubs from 17 schools in Sofia, Varna and Vratsa, mentors in the program and a jury of investors. The purpose of Teenovator startup weekend is to build on the soft skills project from the beginning of the school year, to stimulate students to approach a problem that they are interested in by interpreting a standard business model in a new way. The event was held in Sofia Tech Park.
"In Europe, in the 18-24 age range, 25% of people say they want to develop an idea of theirs into a business. In Bulgaria the data show under 10%. I am sure that together we can make this starting position into an unlimited opportunity, because you, young people, are our hope and pride", the European Commissioner for Innovation, Research, Culture, Education and Youth – Mariya Gabriel – said. "Teenovator is an example of how the ideas of young people in Bulgaria can be supported".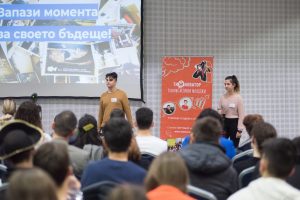 Dr. Boyko Takov, Executive Director of the Executive Agency for Promotion of Small and Medium-Sized Enterprises, also spoke welcoming words, and the Deputy Minister of Education and Science, Engineer Tanya Mihaylova, was the official guest on the second day of the competition. Twenty guest mentors from various business fields, including ultramarathoner Krasi Georgiev and former Pixar artistic director Antoni Hristov, took special part with lectures and team assistance.
The students presented to the jury of investors and partners about 30 startup ideas, most of which will be developed in a startup business for the final race in May. Investors Milen Ivanov, CEO of Angel Club, Momchil Vasilev of Endeavor and Rumen Iliev of LauncHub were part of the jury. A special jury included Zlatina Baleva, Program Expert at the America for Bulgaria Foundation, Victoria Blazheva, Director of Communications at UniCredit Bulbank and Hristo Boyadzhiev, founder of the Tuk-Tam organization. They voted in the categories of green idea, social innovation, sustainable business model and more.
"Teenovator is an opportunity for students to upgrade their knowledge and skills acquired at school with business thinking, presentation skills, design thinking, but most of all – to participate in creating a new community and to acquire this knowledge for a year from real business representatives and entrepreneurs", Svetlana Savova, head of Teenovator in Bulgaria said. "For some of the students in the program's first year, their participation in Teenovator was a determining factor for their choice of major at university".
PARTNERS
Teenovator is implemented with the support of the Bulgarian Entrepreneurship Center (BEC). The America for Bulgaria Foundation supports the clubs in the two Vratsa schools. The project is part of the accelerator program of Reach for Change – The Change for 2019. UniCredit Bulbank is also a partner of Teenovator for the school year of 2019-2020.
About Teenovator
Teenovator has been piloting in Bulgaria since the beginning of the 2018-2019 school year, when four capital city schools participated in the program. For 2019-2020 Teenovator is already in 17 schools in three cities – Sofia, Varna and Vratsa. The project focuses on stimulating students' creative thinking and developing their entrepreneurial skills. Mentors who are entrepreneurs in start-up and developed companies in Bulgaria and with experience in various fields, help students in grades 10 and 11 to find their passion and turn it into a profitable start-up project. For this school year 34 mentors have been included in the program. Teenovator's teaching methodology was developed based on successful practices from Stanford University. The program is implemented in nine countries on three continents and Bulgaria has been part of it since the school year of 2018-2019.
The Headstarter platform for the announcement and finding of internships, which was created by students in the Sofia Mathematics High School, won first prize at the final competition for the first year of Teenovator – 2018-2019. The prize for the winner of the national competition in our country was participation in a special accelerator program in Slovenia from 25 to 30 June 2019 and participation in the international event at the Presidential Palace in Ljubljana on 9 September. Five of the ten start-up projects from the first year continue to develop as companies, and some of them already have investor funding proposals.