Education is the key to success. It s an important factor for the growth of Bulgaria's economy and source for providing skilled, qualified, educated people. We can help to improve the quality of education, by creating tailor-made courses and curriculums, with the support of leading experts and academics from the US.
To provide a new, practice-oriented education model, especially in the sector of entrepreneurship and innovations. To introduce and implement already established and successful models from Stanford University, Santa Clara University and other institutes.
Meetings and talks took place with leading professors and the rectors of the universities of Sofia, Plovdiv, Varna and Veliko Turnovo. Plans have been made, in order to design special master classes, seminars and curriculums in the field of entrepreneurship. Experiences lecturers from Stanford University and other renowned institutes will visit Bulgaria and teach in 2018. Also, online education and video podcasts will be designed and made available. A pilot project will start at Varna Free University in April, providing a 3 day course in entrepreneurship with experiences mentors from the US. In March 2018 a high-profiled marketing seminar was held at the premises of Telerik in Sofia for early to mid-stage startup founders and managers and received universal approval from all who attended.
In June, a pilot for the "My Own Business Institute Class" (MOBI), developed by Santa Clara University, was began at an incubator/accelerator in Varna. The online class with weekly "meet ups" will be presented free to anyone inn Bulgaria who wants to sign up for vthe 10 session class. Those scoring well on the final exam will receive a Certificate of Completion from Santa Clara University.
In July, three professors from three universities (Sofia University, Varna Free University and Varna Economics University) attended a University Innovation Fellows (UIF) training session at Stanford's Design School to learn how to stimulate innovation among their students on campus in Bulgaria.
In October, a Masters Class in Entrepreneurship will start at Varna Free University in October, last 3 semesters and include visiting lecturers who are successful entrepreneurs from the US. The class will be fully accredited and count toward the achievement of a diploma from Varna Free University.
In the Fall a 2-year pilot program in innovation and entrepreneurship will begin at three high schools in Sofia to engage 10th and 11th graders in the world of business and the benefits of becoming entrepreneurs as part of their regular high school curriculum.
A new program of Stanford University for innovation was presented in Sofia and Varna on 8 and 9 May
On May 8 and 9, leading lecturers from Stanford University arrived in Bulgaria: Liticia Britos Cavagnaro and Humera Maryam Fasihuddin. They met with lecturers from the Sofia University, Varna Free University and the University of Economics in Varna.
The occasion for their visit is the presentation of a program that attracts talented Bulgarian students and their professors with leadership skills, creativity and entrepreneurial spirit, who have the opportunity to gain more knowledge and certification from one of the most prestigious universities in the world – Stanford, California. Stanford University is a leader in innovation and new technologies. From there, the careers of people such as Tesla, Marisa Meyer (Yahoo), Netflix, Snapchat and many others, has started. The program will be funded by the Bulgarian Entrepreneurship Center and by Google.
The UIF (University Innovation Fellows) program is a prestigious entrepreneurship, creativity and innovation course at Stanford University, California. It is an intensive training that lasts for 6 weeks, and students become part of the prestigious UIF network. It takes place online, with the most successful participants being invited to a one-week meeting at Stanford University to exchange experience and get further guidance from leading mentors. The UIF program is in partnership with the Hasso Plattner Institute of Design, Stanford and is funded by The National Science Foundation, a US government foundation. The aim is for students to gain additional skills to be leaders and successful entrepreneurs of the future. The application period is from 16.04 to 21.05 and the training will begin on 04.09.2018.
Bulgarian universities can offer four talented students who demonstrate leadership and organizational skills, as well as their professor. Students should be in the middle of their education (completed four semesters) or already graduated bachelors or masters, as well as PhD students. More information please visit the UIF website (http://universityinnovationfellows.org) as well as https://foundationbec.org/
***
The Varna Experience
Through "The Varna Experience", BEC will promote Varna and VFU as the "place to be" to explore how entrepreneurship can provide you all the resources you'll need to create and develop a fulfilling and sustainable business…from A to Z!
Task#1: We will need to develop a multi-media campaign to promote BEC/VFU's education (live and online), mentorship and funding programs offered at VFU and its in-house accelerator/incubator. We need to create a "brand" which establishes VFU as that one place where Silicon Valley and Bulgaria converge.
BEC/VFU will attract participation in its programs on three levels:
1) people wishing to explore the opportunities afforded them when becoming entrepreneurs
2) people who know what kind of business they want to create and want to learn how to build it
3) already have built startup business but now need to know how to scale it up. People may enter the program at any level and move from one level to another once they qualify by submitting an application, completing a questionnaire and passing an entry exam.
Create curriculum customized to the Bulgarian experience by the My Own Business Institute (MOBI) located at Santa Clara University in the heart of Silicon Valley.
1See if you may be interested in becoming an "entrepreneur" by completing a questionnaire and submitting it to Dilian Popov at BEC at VFU in Varna.
2.Based on how you answered the questionnaire you will be directed to an "introductory" first semester course, "Choosing a Business to be Your Own" which is mostly online with once-a-week discussion periods moderated by an instructor. Tests will be given online, graded by MOBI to enable the instructor to determine whether or not the student is prepared to advance to the 2nd semester course, "Expanding Your Business".
If your answers to the questionnaire indicate that you know what you're passionate about and want your business to achieve specific social goals in addition to profits and sustainability – or if you have graduated from the 2nd MOBI "Expanding Your Business course -you can be enrolled in the Miller Center's GSBI program which contains 5 segments:
3-day workshop (BOOST) to learn necessary business fundamentals and improve your strategic thinking.
6-month online training program to help you improve your business models and growth strategies
10-month program in the VFU/GSBI Accelerator to address gaps in your organization and prepare you to attract funding 300 hours of mentoring to address your business' specific challenges and make your business "investment ready".
pitching investors (the best to travel to Silicon Valley to participate in the Miller Center 9-day "in residence" program culminating in the Investor Showcase competition).
If you have created a sustainable business and wish to learn how to scale it, you may qualify for the Pragmatic Marketing Masters Class (PMC) which will annually be presented at VFU to 2 participants per company from up to10 companies by invitation only.
The first course will be conducted in the Spring of 2018, conducted by Pragmatic Marketing.com by two PMC instructors sent from the US.
More classes may be offered by Pragmatic Marketing to meet a company's specific needs at the company's request.
At least twice a year, BEC will bring to VFU speakers to talk about their experiences in creating business "success stories" and to meet with aspiring entrepreneurs from both the MOBI and GSBI programs as well as members of the business community. Talks will be videoed by HandPlayed and become part of the BEC Video Library available to the public.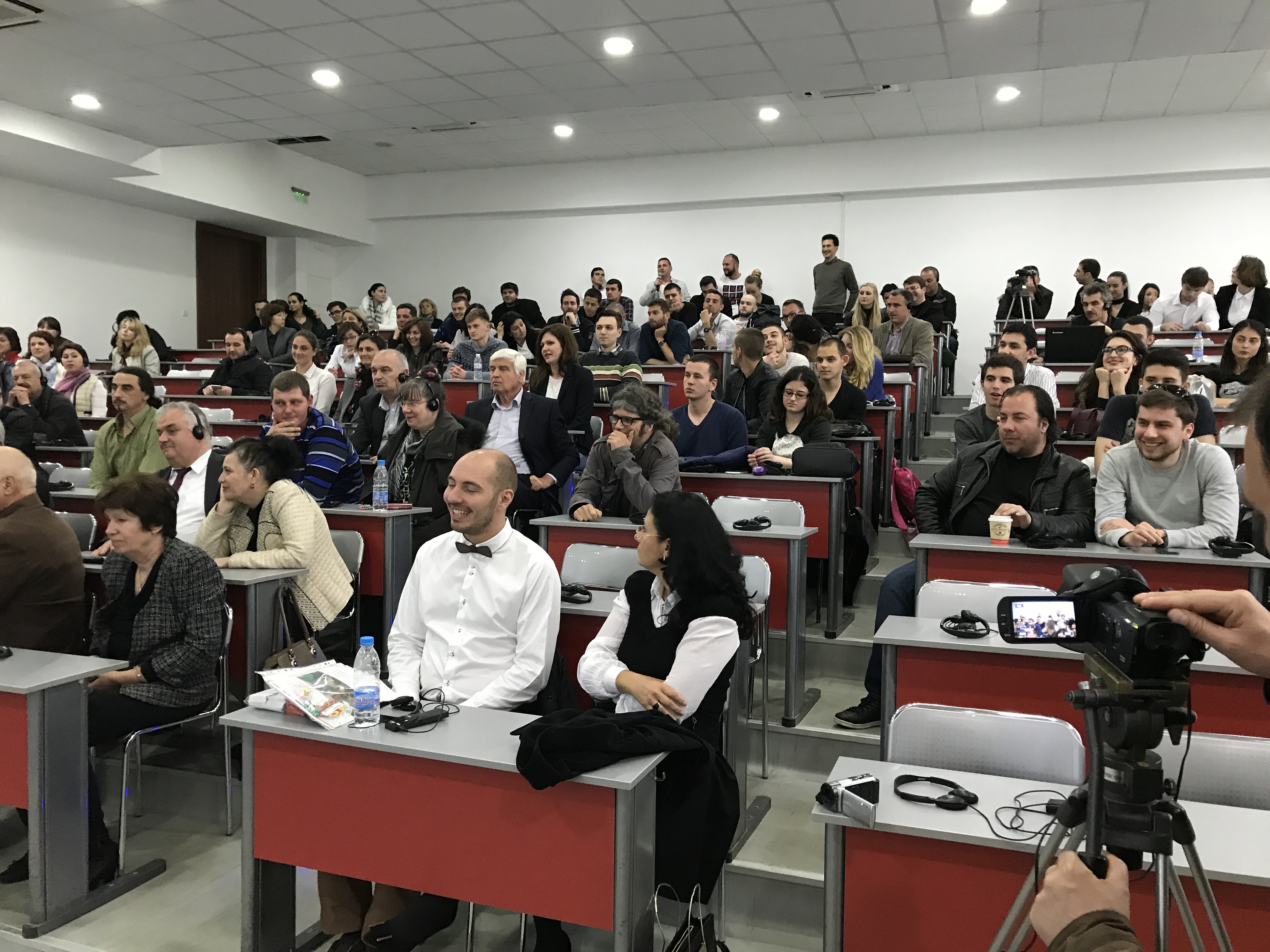 The Final Word
BEC's educational focus will make VFU at Varna the Central and Eastern European (CEE) center for regional small and medium size enterprise (SMEs) creation and social entrepreneurship, as well as a major provider of sales and marketing skills truly "cross-border" businesses need to succeed.