To boost the Bulgarian ecosystem with fresh and useful knowledge from Silicon Valley, to identify problem areas and to offer solutions
To achieve a sustainable Bulgarian businesses, who can make an impact worldwide; to increase economic growth and entrepreneurial activities on the Balkans
In 2015 a mission lead by leading IT entrepreneur Douglas Pica (Provitech) visited Bulgaria in order to hire IT specialists and to investigate the level and facilities providing education on the subject. In 2017 a group of top entrepreneurs from Silicon Valley visited Bulgaria in order to give motivational speeches, identify problem areas, offer solutions and advice and encourage entrepreneurship as a whole. Among the lecturers were: Norman Wynarsky (Siri), Michael Marvin (Map Info), Jamie Williams (American football star), Bogomil Balkanski (Google) and Dafina Toncheva (US Venture Partners).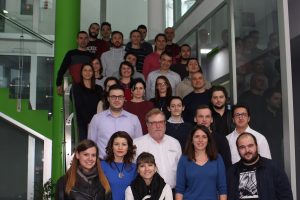 Pragmatic Marketing – professional education for entrepreneurs in technology companies with top coaches from Silicon Valley.
Between March 14-16 2018 Sofia hosted the first Pragmatic Marketing event in Bulgaria. It was a 3 day educational program with leading mentors from Silicon Valley, which will took place at Telerik Academy, bul. Aleksandar Malinov No. 31. The course was subsidized by InterCultural Foundation and BEC and attended by 30 selected participants from a broad range of industries. The course was geared to identifying your customer base and programatically marketing to them.
The Pragmatic Marketing Experience is focused on Technology companies and entrepreneurs, who want like to improve their professional skills.
It is the top educational course in this field with headquarters in Scottsdale, Arizona. Numerous employees of Google, Amazon, Facebook and other famous companies integrate the "Pragmatic Marketing" model throughout their organisation. To date there are 100,000+ individuals trained in over 25 countries. Pragmatic marketing does not teach from theory, but from hands on experience.
Mister Bogomil Balkansky, one of Google's Vice Presidents, highly recommends the program. All his employees have completed it successfully. He was the reason why BEC chose Pragmatic Marketing to run a course in Bulgaria.
An intense 3 day course comprising "Foundation" & "Focus and Market" from the Programmatic Marketing model was completed on March 2018. Each day finished with an exam and successful students received their certificates for completion at the end.
Valuable reading materials from leading Stanford Professors was be distributed during the course. The participants are part of the Pragmatic Marketing Alumni and continue to receive post training support from Pragmatic Marketing's online alumni resource center and has access to useful business contacts.