Lilly Drumeva-O'Reilly, the famous Bulgarian country singer, radio host and representative of the Bulgarian Entrepreneurship Center foundation, took part in a charity project aimed at the elderly, by giving a concert at a Sofia hospice.
The idea came to Svetla Ivanova, manager of the Sofia Residence Hotel, whose staff has been devoting their time to helping the elderly for a year now. "We decided to do something different outside the hotel apart from the care my colleagues provide to handicapped, visually impaired and ill people. We wanted to make them happy and we chose a suitable hospice where they are a bit isolated and to let them experience something that they usually don't as part of their daily routine, bringing a pleasant variety. I want to especially thank Lilly Drumeva-O'Reilly. Nowadays the hardest thing to do is to make someone happy, this is why we have to continue to positively surprise people in this hospice or another", shared Svetla Ivanova, manager of Sofia Residence Hotel.
Lilly Drumeva-O'Reilly performed her original compositions, classical country hits and Bulgarian national songs in the foyer of the Leonardo da Vinci hospice before patients and staff.
The event was followed by a cocktail party and a meeting with the hospice director, Doctor Marinova. During the conversation she shared: "We have been doing this for ten years. We don't own the building, we pay rent. We want to thank you for this nice event that you made for us. All the elderly people here really enjoyed it, some of them even sang along and were genuinely happy. It's just that some of them could not express what they felt".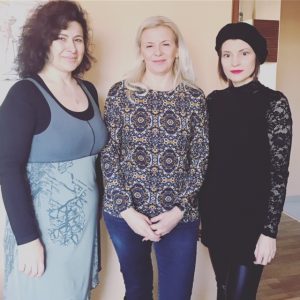 When asked about what diagnoses the residents have, Doctor Marinova answered: "Unfortunately, most of them have serious diagnoses, they are cancer and stroke patients. A small part are lonely elderly people who have no one to look after them. We are a private hospice, admissions are made after a phone conversation, after which we organize a meeting with the patient and their family. The staff is comprised of 18 people, I am the medical director and we have another doctor who is here from Monday through Friday. The conditions here are excellent, the care we provide is tailored to individual needs and we have rehabilitators. There are state institutions of this type as well but the regulations there are different and the waiting period is long."
When asked about what patients need, Doctor Marinova answered: "There are many problems. The number of seriously ill patients that are admitted here is increasing. We need more hospital beds, antidecubitus mattresses and aspirators among other things. We have a website – http://www.hospicedavinci.org/ – and we are open to receiving donations. We can arrange meetings with donors at any time. In the summer the mood is lighter because we have a beautiful garden. We grow roses, we take out benches and pavilions, there is plenty of greenery and the day is longer. Maybe, when the weather gets warmer, you could give an open-air concert in the garden. It would be great if this initiative continued."