The Bulgarian Entrepreneurship Center (BEC) in partnership with the America for Bulgaria Foundation (www.us4bg.org), The Bulgarian Private Equity and Venture Capital Association (www.bvca.bg) and President Plevneliev's Solutions for the Future Foundation, organized a major outreach to the Bulgarian diaspora on the US West Coast, in an initiative named RE:TURN.
The partners joined efforts to engage the Bulgarian diaspora in San Francisco, Los Angeles and Seattle, in order to invest in Bulgarian starts-ups or VCs, give back to select NGOs, or consider coming back to Bulgaria.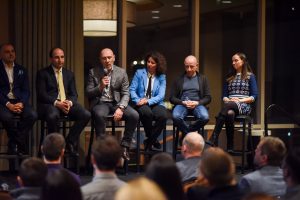 Among the participants in RE:TURN were well-known and respected professionals: Bogomil Balkansky (former Vice President of Google), Momchil Kyurkchiev (Co-founder of Leanplum), Nancy Schiller (President of ABF), Rossen Plevneliev (former President of Bulgaria), Genoveva Christova (President of Ligna), Vassil Terziev (Founder of Telerik), Ivan Dimov (Executive Director of BEC), Larry Biehl (founder of BEC), Evgeny Angelov (chairman of BVCA), Anthony Christov (Founder of IDEA Academy), etc.
Anthony is a showcase of a Bulgarian who after a successful career as Art Director for Pixar, creating award-winning films such as Wall-E, Finding Nemo, and The Incredibles, decided to come back to Bulgaria in order to establish IDEA Academy. Set to open doors in September, IDEA will offer courses in game and visual effects design, cinematography, and entrepreneurship.
In March 2019 BEC provided a grant to IDEA Academy to help kickstart the organization.
For more on RE:TURN, please read ABF's newsletter: https://www.us4bg.org/newsletter/april-2019/