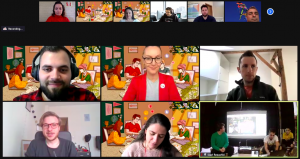 Innovative ideas about career growth, pets and art in times of a pandemic were developed by the students and mentors at Teenovator's startup weekend event
The pandemic did not cancel the Teenovator Ideas Weekend – the annual two-day competition in which hundreds of youths traditionally compete with their business ideas, which they present before a jury of investors. For the third year in a row, Teenovator, the program that helps active youths develop, organized the startup competition among students in the tenth and eleventh grades. This year the event was held online, but the emotions were no less than those live. 150 young people from Sofia, Varna, Vratsa, Burgas, Dimitrovgrad, Dobrich and Panagyurishte, got divided into 27 teams united around 27 startup ideas and worked with 25 mentors from different fields of business and entrepreneurship, who helped them develop their ideas into business plans, marketing strategies and presentations for investors.
A project for minimalist life as a solution against consumerism; a technological idea for clearing space debris produced by inactive satellites around the Earth; hair recycling for hairdressing salons; an app for dog owners; an open-air cinema project for these pandemic times. These are just some of the ideas that the students have been working on for two days and will develop until the final competition in May. Leading topics of the presentations were career development, pets and art during a pandemic.
"All of you are winners at the Teenovator Ideas Weekend, because you want to grow, you look for your strengths and you test your abilities. And the fact that today we are together, albeit from afar, only shows that it is innovation and enterprising people that help to overcome all limitations", said Veronika Racheva, program director of Teenovator. The creator of the Bulgarian Entrepreneurship Center, Larry Biehl, joined the Silicon Valley event with an inspiring lecture. His address can be watched here:https://www.teenovator.bg/лари-бийл-ако-хората-ви-се-доверяват-и/
Vladimir Danailov, Director of the Fund of Funds, opened the event: "Thanks to brave and persistent innovators, the world has moved forward and managed to overcome the challenges. Today, the fundamental challenge we need to address is climate change, but it is also a huge potential for the development of innovative businesses."
Grigori Grigorov, member of the Board of Angel Club, Valya Nedova, Operations Manager at LAUNCHUB Ventures, Viktoriya Blazheva, Communications Director at UniCredit Bulbank, Hristo Arbadzhov, Employer Brand Expert at Kaufland, and Hristo Boyadzhiev, founder of Tuk-Tam, comprised the jury of the Teenovator Ideas Weekend 2021.
We wish to thank:
The Bulgarian Entrepreneurship Center, the America for Bulgaria Foundation, UniCredit Bulbank, Kaufland Bulgaria, PhoneArena, PubGalaxy, Vivacom, Superhosting, Vitosha Venture Partners, launchlabs sofia, the Fund of Funds.
Ideas awarded:
Most sustainable business model – Whiteroom
Most innovative idea – UniFruit
Best presentation – Woof
Greenest business – Pocket Paradise
Best social innovation – Rescue Paw
Craziest idea – University's got talent
Best team – Funnel Camp
Best IT project – Find Trainee
Best idea – Funnel Camp
Best mentor – Gergana Stoichkova