The Bulgarian country singer and experienced journalist, Lilly Drumeva, is starting a new original program on Darik Radio in 2021. It is called "New Horizons with Lilly" and the first broadcast in on January 10th at 19:00 h.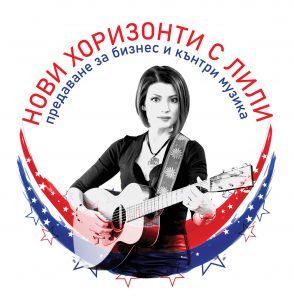 There will be a wide variety of topics and they will span across the contemporary dynamics of public life. The focus will fall on successful Bulgarian entrepreneurs, innovators and talents who set a personal example about how one can realize one's dreams and achieve significance. The program aims to encourage and give hope in these hard times, to discover new horizons for development and to motivate people towards creative and professional growth. Every Sunday the host will invite guests who will share interesting stories and set a personal example for coping with challenges.
New Horizons with Lilly is supported by the Bulgarian Entrepreneurship Center – a public benefit foundation of which Lilly Drumeva-O'Reilly is director and project manager. The resource comes from Silicon Valley (California), proven experience and important news in the fields of business, finance, entrepreneurship, innovation, science, technology, medicine etc.
Special attention will be paid to the partnership and relations between Bulgaria and the USA. The host will tap into a unique source of information which hasn't been explored on air in Bulgaria before. She will interview famous people and experts in various spheres, such as the creator of the voice assistant SIRI and Apple, Norman Winarsky, Google's еx vice-president, Bogomil Balkansky, or the American football star Jamie Williams (San Francisco 49ers).
Mr. Larry Biehl will have a main section in the program. He is the foundation's founder and a philanthropist from San Francisco. He will present the latest news and discoveries that may shake the world. Diplomats from the US Embassy will also attend, as well as members of the Fulbright commission, successful Bulgarian entrepreneurs, representatives of developing companies, startups, directors of investment funds, venture capital funds etc.
Another major point will be American music – country music and its related genres: bluegrass, rockabilly, country rock, western-swing, Americana etc. – another resource that has been ignored on air in Bulgaria. Within sixty minutes, the host will select premiering country hits coming directly from Nashville thanks to the World Country Association. There will be a special review of the best songs according to Billboard's official country ratings as well as country classics such as Kenny Rogers, Dolly Parton, Willie Nelson etc.
Through her San Francisco (California) and Nashville (Tennessee) contacts, the host and author of the new program has access to both valuable resources that will be the backbone of New Horizons with Lilly on Darik Radio.
Lilly Drumeva-O'Reilly is a musical journalist who has more than 15 years of experience working for the BBC, Retro Radio, Radio Sofia, Horizont, Balkan Bulgarian Television and Radio Binar. She specialized in country and bluegrass music in the USA under the Fulbright program. She is also author of the book "Mood with Lilly – Music in 50 Themes", which presents a large part of classic American music genres and stars.
For 20 years now Lilly Drumeva has been a pioneer of and driving force behind the development of country and bluegrass music on the Balkans. She is a board member in the European and World Country and Bluegrass Association, where she represents Eastern Europe. Lilly Drumeva-O'Reilly is also a singer, songwriter, founder and lead singer of the most successful Bulgarian country and bluegrass band – Lilly of the West. She is producer of 11 studio albums, organizer of European tours, concerts and festivals. Lilly of the West have won prestigious awards at competitions in the Netherlands, France and the USA.
Lilly is founder and director of the annual, international Sofia Singer Songwriter Fest, which is to hold its 5th anniversary edition in October this year. Since 2014 she has been a member of the American-Bulgarian public benefit foundation called the Bulgarian Entrepreneurship Center and since 2018 she has been its executive director.