Between October 15 and 31, Bulgaria was visited by famous professors and professionals from Silicon Valley who gave lectures in the cities of Sofia and Varna, as per Bulgarian Entrepreneurship Center's invitation.
Among them were Norman Winarsky – creator of voice assistant Siri and a leading name in artificial intelligence spheres, Jamie Williams – football star, film producer and successful entrepreneur, Drew Starbird – professor at the Santa Clara University and creator of the MOBI entrepreneurship program, Deyan Vitanov – one of the successful young Bulgarians in the Valley, creator of an online game, Ernie Wilson – communications professor at USC Annenberg.
Larry Biehl was again the head of the group, a leading financier and founder of the InterCulture foundation. This time his mission was related to three large projects organized by the Bulgarian Entrepreneurship Center.
The first one was the launch of a master's program in entrepreneurship at the Varna Free University, Chernorizets Hrabar. Thirty talented university students were selected and awarded scholarships by Mr. Larry Biehl. The start of the program was October 19, marked by lectures by Deyan Vitanov, Jamie Williams, Ernie Wilson and Larry Biehl.
In Sofia, Norman Winarsky held a Business Builder Class in which 30 young Bulgarian entrepreneurs took part and received certificates.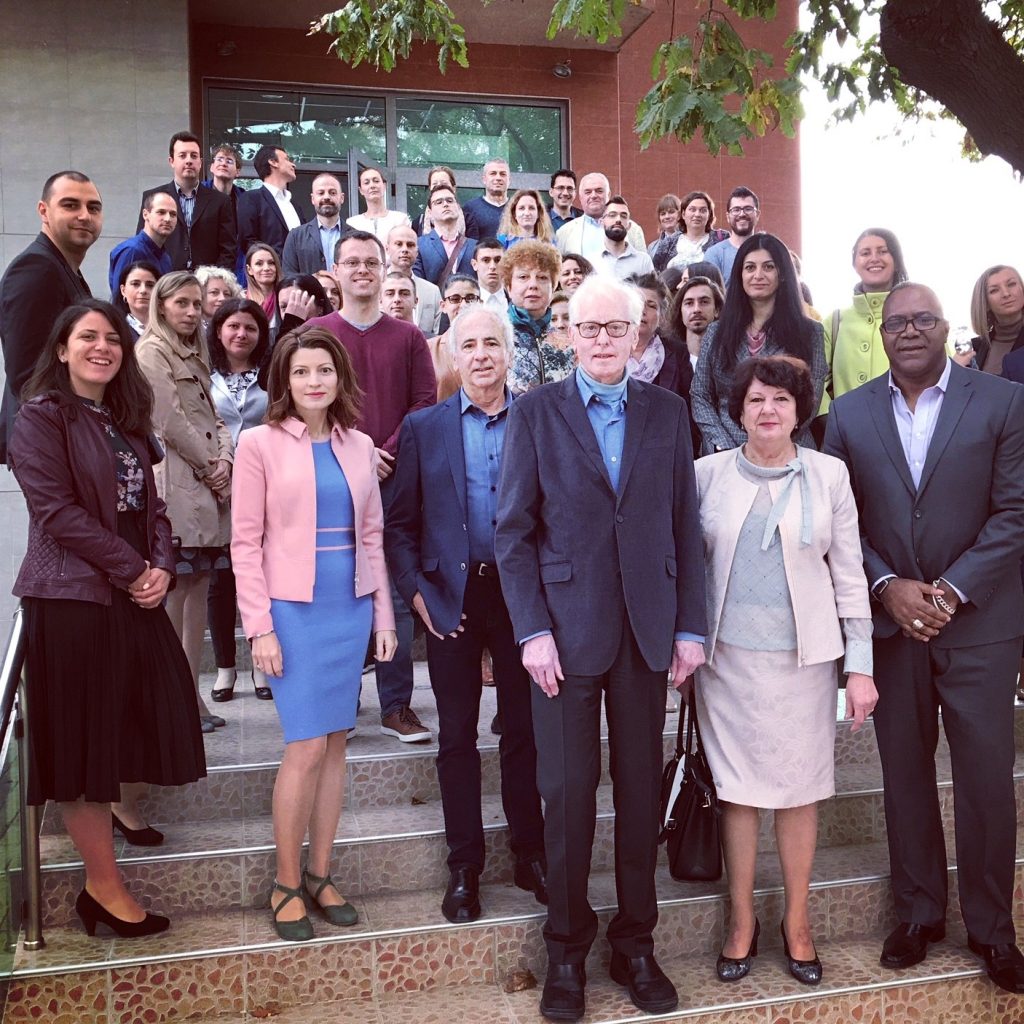 At the same time, the MOBI (My Own Business Institute) program was presented by Professor Drew Starbird in Sofia. The course has been completed by about 20 Bulgarian entrepreneurs. MOBI was also offered at the University of Economics in Varna. Additionally, a high school entrepreneurship program, in which students from leading Bulgarian high schools took part, was initiated by the Proznanie foundation, in partnership with the Bulgarian Entrepreneurship Center.
The lecturers BEC invited also participated in the Innowave 2018 conference in Varna.
Norman Winarsky, Jamie Williams, Drew Starbird and Larry Biehl gave numerous media interviews (bTV, Bulgaria On Air, Bloomberg TV Bulgaria, Europe TV and Bulgaria 24).