On May 17, Larry Biehl took part in the graduation of 175 bachelors and masters from the Faculty of International Economics and Administration of the Varna Free University. During the solemn ceremony, he handed diplomas to masters who achieved the greatest success during their studies from the Data Science majors; European administration and project management; International Finance and International Politics and Security. In his greeting to the alumni, Larry Biehl urged them to set high goals and make the next important step in their lives: "from success to significance."
Larry Biehl's meeting with leading companies from Varna and the region on "Mentoring – Small Investment, Big Return" was held later that day. The President of VFU "Chernorizets Hrabar", Assoc. Prof. Krasimir Nedyalkov, gave Larry Biehl the honorary diploma of the university for his contribution to the development of the new educational model and the creation of a supportive entrepreneurial environment for young people.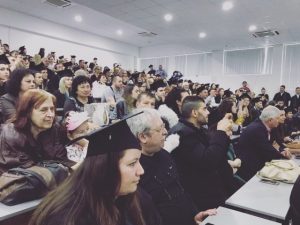 Over 20 companies in the IT sector, road and building construction, chemical industry, services, banks, etc. listened, with great interest, to Larry Biehl's narrative about the creation and development of an entrepreneurial environment in the Silicon Valley. He paid great attention to the model of mentoring of talented students and startups. Larry Biehl also shared the progress of Master of Entrepreneurship, a joint project of the Bulgarian Entrepreneurship Center and Varna Free University.