In 2008 Larry Biehl and his wife, Maggie Kritzer, financial advisors and investment managers from Silicon Valley, created the InterCulture Foundation. They travelled around the world in order to discover interesting places where they could create "common spaces between cultures in a culturally competent way".
In 2014 Larry discovered Bulgaria and fell in love with it. Being a fan of cowboy poetry, he decided to bring to the Balkan country a group of authentic American cowboys and Native Americans who performed their songs and recited their poems. The show travelled to ten Bulgarian cities and was a huge success. The second visit of Larry and Maggie was a fact-finding mission in which they collected valuable information and visited historic sites.
Larry's interest in ancient history resulted in several projects connected with history and archeology. He met with leading Bulgarian historian, Prof. Bojidar Dimitrov, director of the National History Museum, and explored ancient Bulgarian sites: the Bulgarian capital Pliska, ancient tombs in Kazanlak, ancient Plovdiv, Roman baths in Varna, the medieval fortress Tsarevets in Veliko Tarnovo and one of the oldest settlements in the Balkans – Perperikon near Kurdjiali.
He met with mayor of Sofia, Yordanka Fandakova, with deputy-mayor for culture and education, Todor Chobanov, and minister of culture Vejdi Rashidov.
In the field of archeology Larry established contact with the Balkan Heritage Foundation.
On his next visit to Bulgaria he was accompanied by Douglas Pica, founder of one of the most successful mortgage companies – Provitech. Doug was on a mission to hire IT specialists for his Bulgarian office. He and Larry visited all the leading academies in the software field.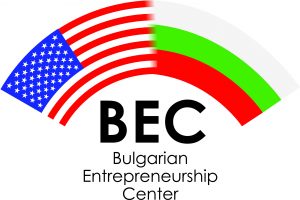 Since 2017 Larry's focus has shifted to entrepreneurship and education. He was instrumental in creating the Bulgarian Entrepreneurship Center (BEC) Foundation.Its goal was to promote entrepreneurship throughout all elements of society and to develop a permanent educational connection that can ultimately lead to American investment and funding for Bulgarian-inspired projects in different areas. "Entrepreneurship is a verb, not a noun – not a state of being but a continuous state of becoming", says Larry in one of his interviews. BEC's mission is to help Bulgarians develop an entrepreneurial ecosystem and to encourage and support inspiring Bulgarian entrepreneurs. "We would like to inject entrepreneurial spirit and skills into the Bulgarian DNA in order to inspire and enable people to prosper and serve their community", Larry continues.
Many of BEC's programs are conducted by leading entrepreneurs from across America – from Tech Valley to Silicon Valley – to create a "bridge" between Bulgaria and the United States for the exchange of knowledge, expertise and resources. BEC provides education in entrepreneurship at different levels.
Teenovator is a project for high school students who would like to become entrepreneurs, who have interesting ideas and would like to turn them into profitable start-up projects. Teenovator was created in 2018 and has been conducted in 17 schools in 3 Bulgarian cities. It is supported by EU commissioner for innovation, education and youth – Maria Gabriel.
My Own Business Institute (MOBI) provides entrepreneurial education for small and family businesses. It is an online course provided by Santa Clara University, California. Director of the program, Andrew Starbird, together with manager Trish Kalbas-Schmidt, visited Bulgaria in order to supervise the education process. Bulgaria now has more than 200 graduates of the MOBI courses.
The Master in Entrepreneurship (MIE) program is a 2-semester academic course held at Varna Free University with the participation of leading lecturers from Silicon Valley. The program utilizes educational material based on courses in Stanford and Massachusetts Institute of Technology. The first 30 graduates successfully presented their projects before international investors.
Larry's visits to Varna inspired the creation of the Smart Varna Foundation (SMF), a nonprofit entity, designed to encourage entrepreneurship in the area. It was established in mid-2019 and has initiated a variety of projects as well as international forums. The foundation facilitates the dialogue between the public and the private sector, promotes innovation in industries, ranging from healthcare technologies to conservation of the local cultural heritage and social services. It also created the co-working space Switch – a newly found hub for proactive thinkers to exchange know-how and ideas.
University Innovation Fellows (UIF) is an innovations training program, part of the Stanford Design School, California. Its creators, Leticia Britos Cavagnaro and Humera Fasihuddin, visited Bulgaria to identify talented professors and students who would benefit from it. It will help them to develop leadership skills, creativity and self-organization within the institution they study in. As a result of the program, three Bulgarian professors and two groups of students completed the training at Stanford University.
Arc Academy (AA) is a practical course that educates future designers for the gaming industry. It features lecturers from Pixar and other famous computer animation companies.
Pragmatic Marketing (PM) is a three-day intensive and practically oriented course focused on technology companies and entrepreneurs who would like to improve their professional skills. Numerous employees of Google, Amazon, Facebook and other successful companies have completed it. PM was held in Bulgaria and was conducted by one of the leading lecturers – Richard Nutinsky. Thirty Bulgarian entrepreneurs have graduated with an exam.
Norman Winarsky Master Class is a compressed short course aiming at creating and building break-through ventures. It is held by Norman Winarsky – president of SRI Ventures at SRI International and creator of the virtual voice assistant SIRI. The course was attended by 30 top Bulgarian entrepreneurs who graduated with a certificate.
BEC also organized other master classes, workshops and seminars in the field of entrepreneurship, as well as inspirational lectures by prominent mentors, such as Joanne Bond.
Apart from education and entrepreneurship, Larry has started projects in many other fields in Bulgaria. His interest lies especially in social services. He has introduced the concept of the Development Impact Bond (DIB), where impact investors partner with philanthropists to fund social service organizations (NGOs as well as commercial companies) to achieve specific, pre-agreed upon goals, as follows:
The impact investor and philanthropist agree upon a social problem that needs to be solved,
The impact investor puts up the risk capital the selected service companies require to enable them to solve the problem,
The service companies then do the work necessary to achieve the desired and measurable results, and
The philanthropist pays the impact investor back his invested capital (plus a small return) if and when the results are achieved.
The result of such a partnership is 1) the impact investor has an opportunity to achieve a desired impact and a small rate of return, 2) the service company receives the necessary capital to successfully deliver the desired results (without incurring a debt or diluting its ownership) and the philanthropist only pays for the desired results, not simply earnest effort: truly a "win-win-win".
Another social project created by Larry was conducted at the Sofia Residence Hotel in Bulgaria. Its employees donate several hours of their time each month to help elderly or disabled people. In so doing, the employees/volunteers not only help their local community, but breed a family relationship that strengthens their common bond to one another and their employer.
In the interest of future projects, BEC also established contact with the Four Paws Foundation, which trains guide dogs for the blind.
Larry's interests lie in medicine as well. He researched the possibility of developing a vaccine in Bulgaria which will help patients with Parkinson's disease. The substance is extracted from tobacco leaves and will diminish debilitating symptoms of neurological conditions. The technology used is called Biopharma and could be introduced in Bulgaria too.
Another progress in the field of medicine could be achieved by the presence of leading American pharmaceutical expert Michael Bigham. He has developed cancer treatment medication as well as some of the newest and strongest antibiotics. Mike will visit Bulgaria in the future and will participate in several projects.
Larry has also developed strategies in the field of tourism. He attended an industry forum held at the Ministry of Tourism and opened by minister of tourism Nikolina Angelkova. Larry visited one of Bulgaria's premium resorts, Albena, and established contacts with the management. He invited Bob Burke, one of America's leading restaurateurs and tourism professionals, to visit Bulgaria. Bob is a master of strategic decisions, financial analysis and investments. He is behind the success of many American tourism establishments and will visit Bulgaria soon.
BEC has also made an attempt to support Bulgarian sport by inviting American football legend Jamie Williams to Bulgaria. He is a champion with the San Francisco 49ers and a successful entrepreneur. He held a motivational speech at the stadium of one of Bulgaria's leading soccer teams – Levski. He inspired the players and prepared them for an important match.
Last but not least, Larry's interests lie in culture. Being a fan and admirer of cowboy poetry, Larry is a music lover and open to different kinds of culture. He also supported Sofia Singer Songwriter Fest (SSSF), an international festival dedicated to acoustic music and poetry, held in Sofia at the end of September. SSSF has been a huge success and has been running and growing for three years.
A highlight of Larry's work in Bulgaria was meeting president Rumen Radev, who expressed willingness to support BEC's projects in the future.
To be continued…