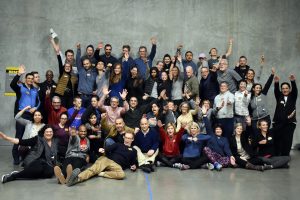 Another group of Bulgarian teachers trained at Stanford under the University Innovation Fellows program
In January 2019 a second group of Bulgarian teachers went to Stanford University to be trained under the University Innovation Fellows (UIF) program. Among them were Associate Professor Kamen Spasov, Dean of the Mathematics and Informatics Faculty at Sofia University "Saint Kliment Ohridski", and Victoria Stancheva, assistant at the Marketing Department at the University of Economics – Varna. They spent a few days at the center of the Silicone Valley where they exchanged experience with colleagues and participated in an intensive course in design thinking and developing specific creativity and organizational skills.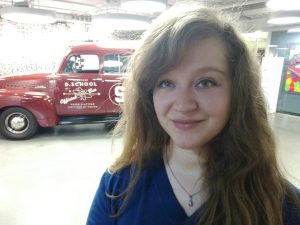 And this is what Victoria Stancheva shared after her return:
'The program was quite intensive and well-structured at the same time. After each stage and session, we had time to give feedback, summarize what we learned and discuss how we can apply the knowledge at our universities. Interestingly, after going through the stages of design thinking, we had the chance to conduct a training session on the same topic for our students. Our group was comprised of teachers from various contingents and scientific fields (medicine, mathematics, business, military studies, music etc.) and all of us could clearly see the possibilities for applying (in our own work) the instruments and models shown. The environment and facilities at Stanford are centered on the convenience of students and are conducive to innovations. In my work, I shall apply design thinking tools in a start-up competition for high school and university students.'
---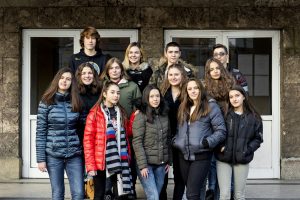 High school entrepreneurship in Bulgaria, supported by BEC
2018 was a good year for the development of entrepreneurship at a high school level. Our partners from the "Proznanie" foundation kicked off a new project named "Teenovator".
Teenovator are startup clubs for high school students, where they learn how to earn a living by doing what they love and acquire new skills needed for success in the job market of the 21st century.
Teenovator is conducted in Bulgaria since October 2018 and is a part of the USchool international network, whose foundations are based on the Design Thinking concept of Stanford University.
Teenovator clubs are led by mentors, who are young entrepreneurs themselves.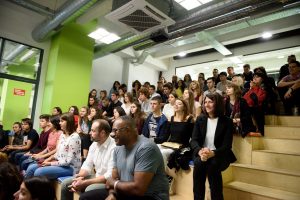 They meet with the students once a week and help them on this journey. Dedicated mentorship and positive encouragement are the key components to our program. The goal of every startup club is to provide a sandbox where students can complete their very first entrepreneurial project – they are guided to start a profitable venture – and through that they gain invaluable experience.
Watch a short video about Teenovator on Bloomberg TV:
https://www.youtube.com/watch?v=ZjaDF63PJeM
https://www.youtube.com/watch?v=u2ILqLq7HI8
For more information please contact Veronica Racheva: vracheva@proznanie.bg, https://teenovator.bg/
---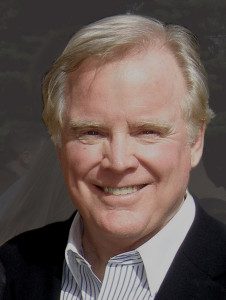 Bob Burke, famous American restaurateur, to visit Bulgaria in May 2019
In mid-May Bulgaria will be visited by Bob Burke, the famous American restaurateur and tourism professional. He was invited by the Bulgarian Entrepreneurship Center (BEC), to give lectures at leading Bulgarian universities and to meet high-ranking people in the industry. Bob Burke will also hold a two-day seminar about "How to increase the establishment's turnover and attract more customers". Very soon the dates and venue for this interesting event, intended for the professionals in the field, will be announced. After completing the course, participants will receive a certificate signed by the famous lecturer. For more information: lili@techno-link.com
Bob Burke is the founder of one of the most successful consulting companies in the field of tourism – Ovation Consulting. He has substantial experience and a star reputation, as leader in the field of hotel and restaurant management. He has developed and made a lot of establishments successful, creating unique products and finding new markets for them. Bob Burke is a master of strategic decisions, financial analyses and investments. He can find the right solution for any client, improving the product quality and marketing. He works in close cooperation with some of the best chefs, such as Michael Chiarello. Bob Burke has been the president of leading restaurant chains – Pat Kuleto Restaurants, Piatti Restaurant Group, Real American Restaurants, Gordon Biersch Brewing Company and others. He is also chairman of the board at the Guide Dogs for the Blind organization. He is engaged in other social causes as well and is a passionate skier and cyclist in addition to being a connoisseur of good food.
---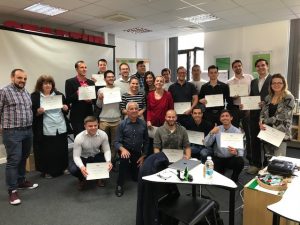 Leading lecturers from Silicon Valley visited Bulgaria in October 2018
Between October 15 and 31, Bulgaria was visited by famous professors and professionals from Silicon Valley who gave lectures in the cities of Sofia and Varna, as per Bulgarian Entrepreneurship Center's invitation.
Among them were Norman Winarsky – creator of voice assistant Siri and a leading name in artificial intelligence spheres, Jamie Williams – football star, film producer and successful entrepreneur, Drew Starbird – professor at the Santa Clara University and creator of the MOBI entrepreneurship program, Deyan Vitanov – one of the successful young Bulgarians in the Valley, creator of an online game, Ernie Wilson – communications professor at USC Annenberg.
Larry Biehl was again the head of the group, a leading financier and founder of the InterCulture foundation. This time his mission was related to three large projects organized by the Bulgarian Entrepreneurship Center.
The first one was the launch of a master's program in entrepreneurship at the Varna Free University, Chernorizets Hrabar. Thirty talented university students were selected and awarded scholarships by Mr. Larry Biehl. The start of the program was October 19, marked by lectures by Deyan Vitanov, Jamie Williams, Ernie Wilson and Larry Biehl.
In Sofia, Norman Winarsky held a Business Builder Class in which 30 young Bulgarian entrepreneurs took part and received certificates.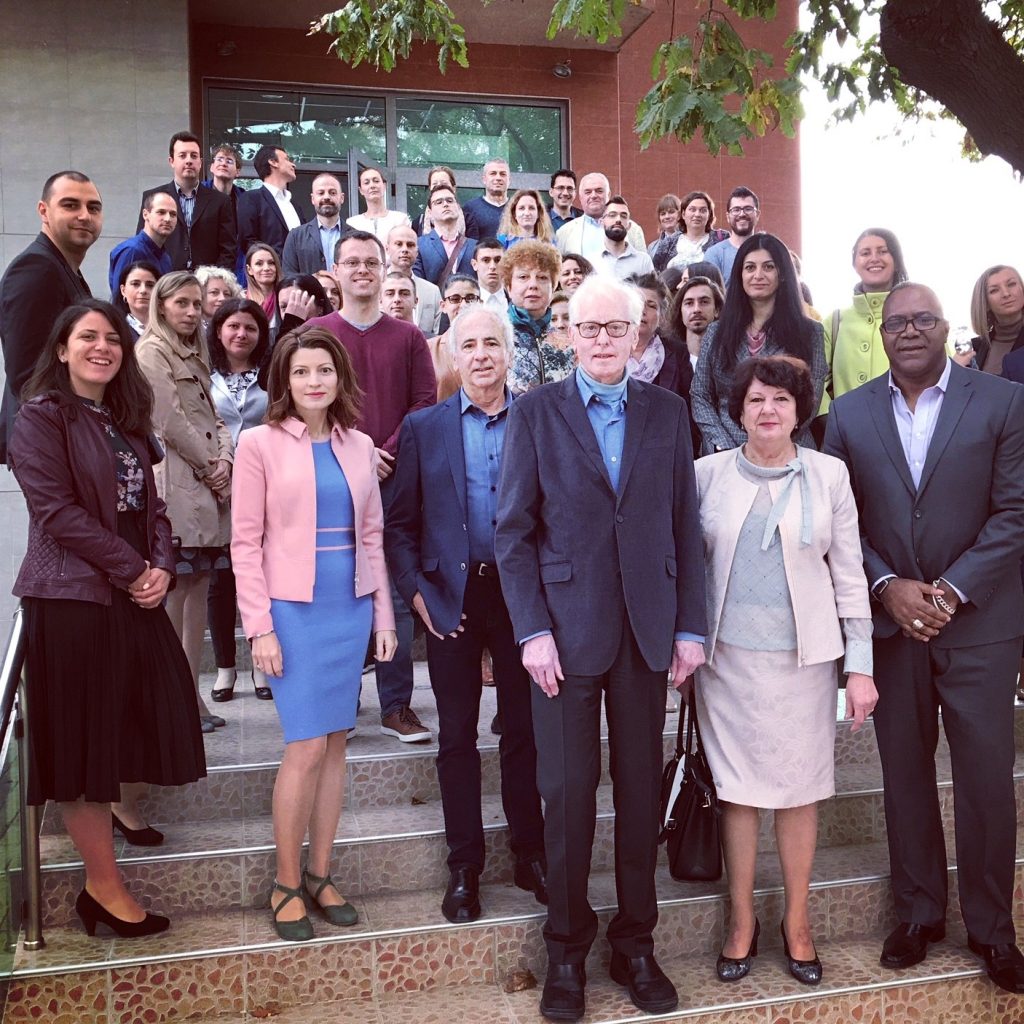 At the same time, the MOBI (My Own Business Institute) program was presented by Professor Drew Starbird in Sofia. The course has been completed by about 20 Bulgarian entrepreneurs. MOBI was also offered at the University of Economics in Varna. Additionally, a high school entrepreneurship program, in which students from leading Bulgarian high schools took part, was initiated by the Proznanie foundation, in partnership with the Bulgarian Entrepreneurship Center.
The lecturers BEC invited also participated in the Innowave 2018 conference in Varna.
Norman Winarsky, Jamie Williams, Drew Starbird and Larry Biehl gave numerous media interviews (bTV, Bulgaria On Air, Bloomberg TV Bulgaria, Europe TV and Bulgaria 24).